Martyrs' Gallery and Project Space is located in the historic Star Brewery building, which is also home to many of Lewes's artists and craftspeople. Our main entrance is situated in a courtyard between Fisher Street and Castle Ditch Lane, which is accessed from the passageway opposite the Lamb pub in Fisher Street; from Pope's Passage alongside the Rights of Man pub in the High Street; or from Mount Place or Castle Precinct, past the Lewes Arms pub.
If you are arriving BY TRAIN, turn right out of the station, walk up Station Street and then cross the road into Fisher Street. If you are arriving by 28 or 29 BUS from Brighton, walk from the law courts in Lewes High Street via Pope's Passage or Fisher Street. If you are arriving by 28 or 29 BUS from Ringmer or Tunbridge Wells, walk from School Hill past the war memorial and turn right into Fisher Street. If you are arriving by CAR, there is short-stay parking at the Needlemakers and long-stay parking at North Street or East Street (see map). Parking is free on Sundays.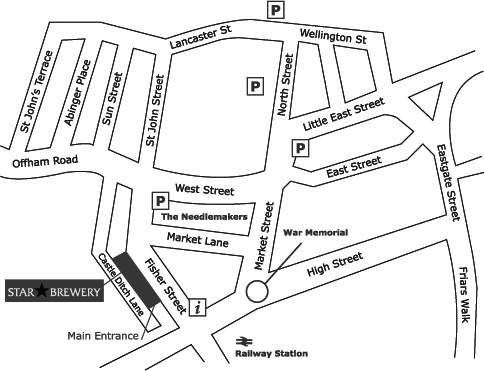 Our core opening hours are Thursday to Sunday, 12 noon to 5pm, but please check the published hours before setting out in case individual exhibition arrangements vary. Exhibitions typically run for one calendar month (exceptionally two). Private Views take place from 6–9pm on the First Friday of the month and special events in the afternoon of the Last Saturday, unless stated otherwise. We are happy to make individual arrangements for group or school visits – please ask if this applies to you.